3 Unexpected Delights at the ILA Conference 2015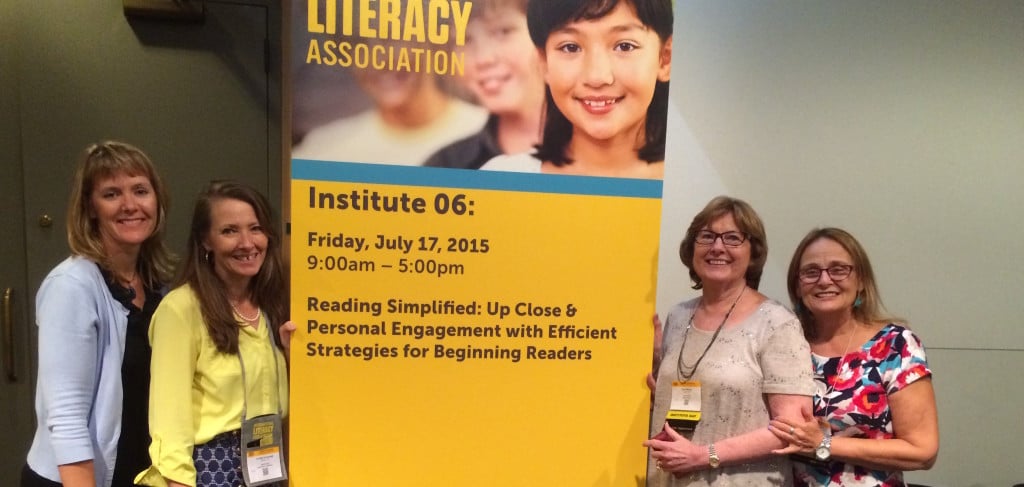 We were so honored and excited to present for a pre-conference institute at the International Literacy Association's (ILA) annual conference in St. Louis last weekend. We shared to an eager audience of teachers a handful of key reading strategies that we use with beginning and struggling readers.
Christie and I both had to rush back more quickly than we would have liked–I had child responsibility and she had new puppy responsibility. Pictures forthcoming! But for a quick trip, a lot happened!
If you couldn't make ILA this year, here's my quick review of 3 unexpected delights at the International Literacy Association 2015 conference:
1. Amazing participants
Teacher professional development can be a tricky business–one never knows if your message will fit the group's need. But this group of teachers, reading specialists, and administrators drew us in and connected so well!  We got smart questions all day long, heard apt suggestions, and discovered what they still needed to be able to make the strategies fit their context back home.
At the last hour, they gave thoughtful written constructive feedback, which is so helpful since this was our first full-day event. We even had the extra-studious teachers from Kansas City stay late to video record us modeling an example strategy! If you were at our institute, we heart you, as my daughter would say. 😉
2. Delightful personal and professional reconnections
(Notice the Dr. Seuss hat that Carol is holding!)
The 4 of us who presented came from Nebraska, New York City, North Carolina, and Wisconsin and we hadn't been all together for 5 years. What a treat! I knew it would be a pleasure, but I didn't anticipate how much catching up and talking shop we'd have to do.
On Saturday, the first day of the actual institute, I had planned on catching talks by leaders like Nell Duke and Timothy Rasinski, but never made it 😮 because I kept gabbing about teaching reading with Dianne and finding gems in the vendor hall. Meeting new people was another highlight.  For instance, we were glad to learn about the Global Reading Network from Yeama. And it was a treat to meet folks teaching in German/English speaking children in Canada.
3. Stunning opening session
I always miss the opening sessions at conferences–probably because I'm still trying to finish prepping my presentation! Shh, don't tell my mommy! But this year, I'm so glad I made it to the opener.
Everyone in the 4,000 plus audience must have been bowled over by the story of young Shiza Shahid, the co-founder of the Malala Fund and a persuasive speaker. After a Pakastani childhood, Shiza went to Stanford on scholarship; started a week-long camp for young Pakastani girls to boost their educational opportunities at age 20; and later left a prestigious corporate job to start the Malala Fund…all by the age of 23!
This was the first time I heard that the brave Malala had been at this camp organized by Shiza a couple of years before she was targeted by the Taliban and shot in the face. Shiza connected with Malala while she was still in the hospital and the seeds for the Malala Fund were born. Malala recovered and later won the Nobel Peace Prize. Now Shiza advocates for educational opportunities for young women/girls especially and makes a powerful case for the urgency and complexity of the mission.
Then in a most interesting juxtaposition, Shaq was up next. Yes, you read that right. Shaq was a keynote at an educational conference. You probably didn't know, like I didn't, that the unique Shaquille O'Neal, earned a doctorate in education and recently wrote a children's book. Yep!
How did he accomplish that?
Uh, well, his momma.
He told some great stories of his youth and how his parents and teachers (especially his 4th grade teacher) helped him overcome classroom antics and poverty. Shaq's quick wit was a treat while his many accomplishments, spanning well beyond the basketball court, left us with another potent reminder of the power of education.
But what of those who face adversity, both in this country and beyond its borders?
Much work is left to be done. 
Shiza reminded us there are no superheroes–just you and me, needing to step up to the plate and respond to 1 issue we care deeply about. I learned many other things at ILA this year, but that may have been the best.
If you were at ILA, please let us know what you thought. Or, if you missed it this year, what do you enjoy the most from conferences?