Don't make this mistake.
Don't put the cart before the horse.
Don't emphasize sight words before your students have a strong grasp of sound-symbol processing, or a sound-based approach to decoding.
It really messes up many, many kids.
Many kids can be fine with an emphasis on sight words early on…but only because they already have the underlying cognitive skill of phonemic awareness (perception of individual sounds in words) and the concept of the alphabetic principle (our written language is a code for sounds).
On the other hand, at least 40% of kids do NOT perceive the individual sounds in words in K and sometimes 1st.  They do NOT get the concept that our written language is a code for sounds.  So, when we emphasize sight words to THEM, they believe that reading is a visual-only code.
And they miss the key.
They miss that learning to read is about attacking unknown words with a sound-symbol approach. They all-too-often miss this foundation.
Ensure a Sound-Based Decoding Foundation
So, please ensure that your kiddos have a really strong sound-symbol approach to decoding. [Try the games Switch It and Read It for that.]
And ensure that they are learning the Advanced Phonics spellings (i.e. that /oa/ is o, oa, ow, o_e, and oe) with the activity Sort It.
THEN through re-reading, apps and games, and writing, help them learn the most frequent Fry words.  The top 25. Then the top 50.  Then the top 100. Then the top 300.
AND, you can reinforce key decoding skills, such as Blend As You Read, AS you also reinforce sight word knowledge.  I've got a freebie to offer you that accomplishes just this very thing.  Try a fun game, Steal It!, which has been a universal hit with kids.
Shh! Don't tell them that it's reading practice.
Watch this video to learn how to play Steal It!
One of my students couldn't read any word he hadn't memorized by sight less than 3 months ago.  Since then, he's played Switch It and Read It to establish a strong sound-symbol approach to decoding.
Then he began studying Advanced Phonics through activities like Sort It.
Now, with a strong sound-based decoding foundation, he can still get practice learning the phonics knowledge he's studying this week (i.e., the sound /i_e/) AND he can practice recognizing the top 300 most frequent words with the /i_e/ sound.
Sight words thru phonics!
He's getting targeted practice on the most frequent words through this fun game.  AND he's getting simultaneously getting practice recognizing the /i_e/ sound spellings.
How do you teach high frequency words right now?
Could you adapt them so that they also tie into the phonics information you're teaching?
Reading Simplified's Approach to Sight Words Thru Phonics
In Reading Simplified, we typically cover 1 Advanced Phonics sound per week, following the sequence in the Streamlined Pathway shown below: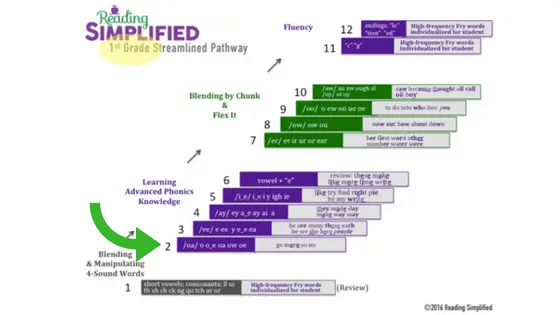 For example, in week 1, we target the sound /oa/ for a week through activities such as Sort It, Search for the Sound, and reading and re-reading of /oa/ sound texts. We can also let kids practice these skills on their own or in small groups through apps and games. Steal It! is one of the best we've found for practicing the tricky vowels.
Then in week 2, we would target the sound /ee/ for a week, using the same activities we used last week but with /ee/ sound words and texts this week.
And so we continue up the Streamlined Pathway for about 12 weeks until our students have gained a tremendous amount of phonics information.
Then they're ready to pivot towards early transitional readers, such as Henry and Mudge or Frog and Toad.  For fluency-building, kids at this stage may read and re-read the passages from QuickReads which are specially formulated to teach the most frequent words–rapidly.
Phonics is still reinforced but takes a lesser role at this stage.
What do you think of this approach that integrates phonics information into sight word instruction?
Do you think you could try it?  Or, if you're already using this approach, how does it work for you?
Get a jump start with the free Steal It! game targeting the most common /oa/ sound words.