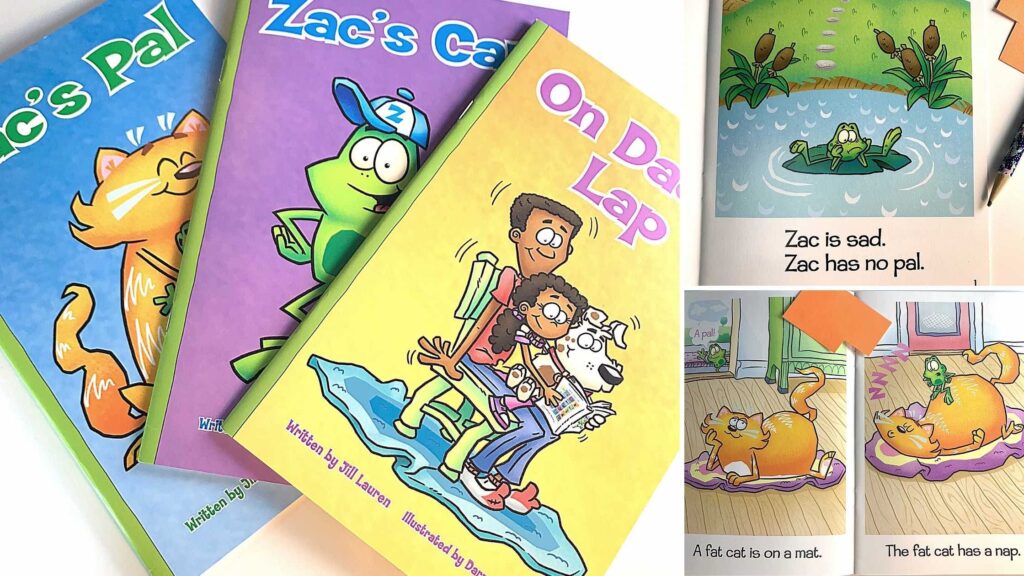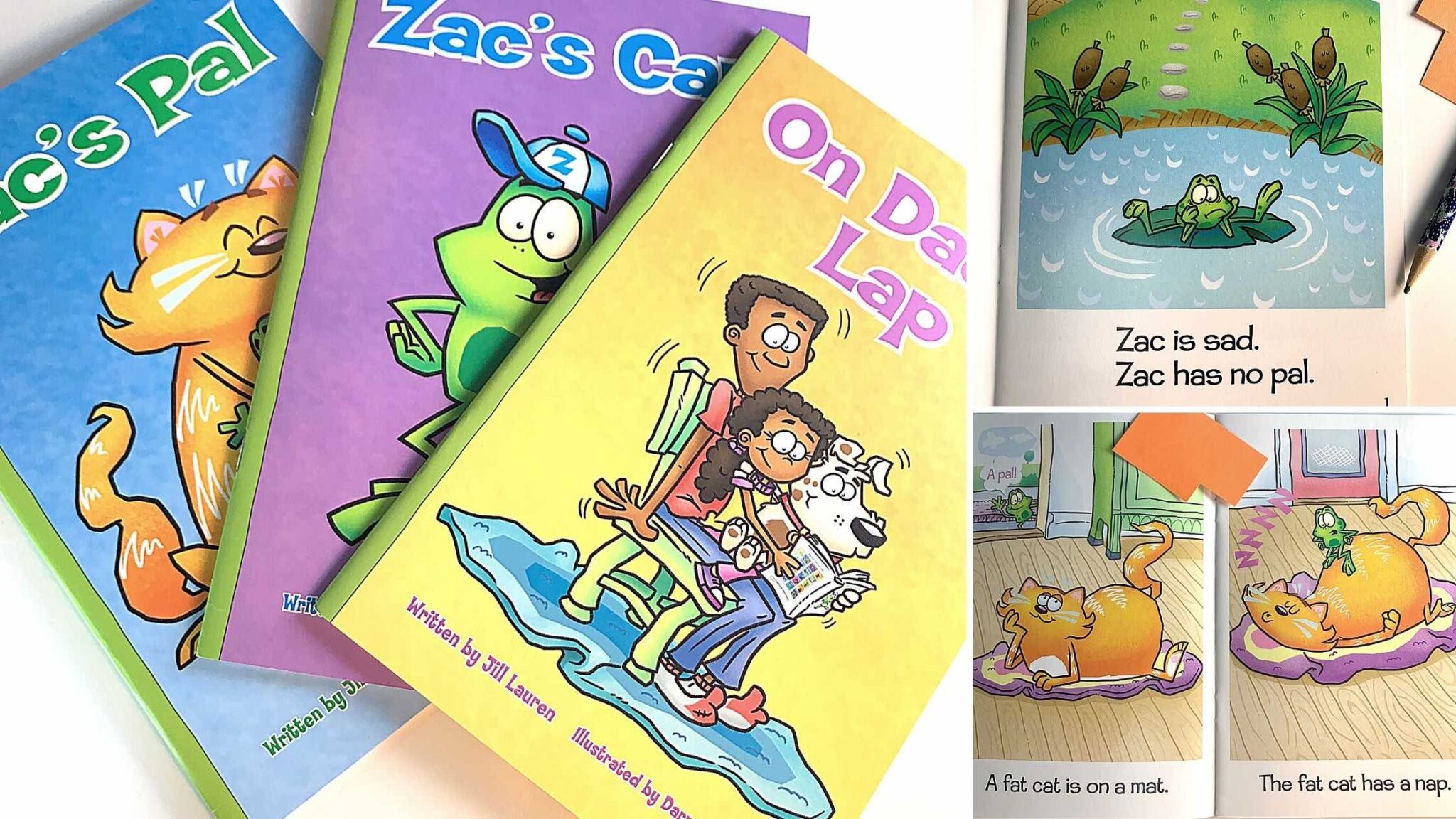 Looking for engaging, colorful decodable texts to hook your beginning readers? This Whole Phonics review will likely meet that need!
Peek inside the key features of this new Whole Phonics™ program that includes sets of systematically-organized decodable texts along with colorful workbooks. Besides reviewing the value of this new series, I'll also discuss an important principle about using decodable texts, or any texts...
While it's important to talk about features of texts,

a text is not necessarily good or bad in and of itself.
Inside the Whole Phonics texts are features that we might use as Reading Simplified teachers and some that we might not, but I still think this is a great series to consider. As we talk about this series of books for teaching reading, and as I talk about other series of books in the future, I want to emphasize the value of what goes on with any particular book choice is mostly about what's going on in the teachers' mind.
It's our job to adjust the text that we have to match up with the students' needs. That's what's really magical about the teacher who is really in tune with what his/her group of students need.
While it's important to talk about features of texts, a text is not necessarily good or bad in and of itself. In general, mostly it's about how we use them.

For instance, I saw a Facebook post recently where someone was showing one page of a decodable text that was focusing on short vowels, but it also had some harder high-frequency words and maybe some more advanced letter sounds.
Everyone was kind of jumping on the bandwagon, saying, "Oh, this is not right." As it turns out, this text, although it mostly focused on short vowels, was for second grade--and it was for review. A lot of those features in that text were relevant because it was for a second grader at the beginning of the year who was reviewing things that had come in kindergarten and first grade.

Thus, the text itself can't always be judged appropriate or inappropriate; some of the benefits and features of a text depend on how and when a teacher uses it.
Yes, we're going to think about the features of the text, but we're also going to need to think about how we are choosing the texts to match our students' needs… you'll also discover how to get your hands on a FREE Whole Phonics digital book!
Reviewing Whole Phonics Decodable Readers & Workbooks
[03:16] – Introducing Whole Phonics books and why I'm a fan of the series
[05:47] – Taking a closer look inside the pages of one of the short /a/ books, "Zac's Pal"
[13:03] – The cultural diversity of characters featured in the Whole Phonics books
[15:34] – The second level of Whole Phonics books
[18:03] – Looking inside Whole Phonics workbooks
[21:01] – How to get your hands on a Whole Phonics freebie!
[23:39] – How to adjust Whole Phonics resources with the Reading Simplified streamlined approach to reading
[28:05] – An example reading lesson with a kindergarten student reading a challenging text
[If you'd rather read the transcript from the above video, here ya go...]
My Whole Phonics Review
I'd like to share this new series of books and reading program called Whole Phonics™.
Isn't that clever? Do you get it?

We don't have to bicker about "whole language" versus "phonics", as if they're mutually exclusive. They're both philosophies in the teaching of reading and have some amazing features. So we can throw away the bad, but embrace the good in both. "Whole Phonics" is wisely hinting at that as they create beginning reading series and workbooks.
You can see from the image below that they're super colorful:
I was so excited to get a series of these books. Here is a snippet of the overview included in the front cover of these books:
"

Whole Phonics" is a structured literacy program created by a veteran reading specialist for beginning readers

. Whole Phonics books are colorful, but silly and just plain fun to read. Young readers can join in with the delightful adventures of multicultural characters and their animal friends to learn critical phonics skills.

These books are carefully, sequentially organized with a structured literacy framework

."
I find that what they said is accurate. So, let me give you an example. Here is level one:
Level one includes 15 books of short vowels, three sound words. You can see there are three books with short "a"--three with short "i," "o," "u," and "e."
Exploring "Zac's Pal"
So, let's take that first row of books, the short "a" books. There are three different books to reinforce that letter sound and some other letter sounds and so that's what these are: "Zac's Pal," "Zac's Cap," and "On Dad's Lap." Let's dive into the first one, "Zac's Pal."
First of all, notice that it is very colorful and aesthetically pleasing, yet it's not too busy. It's pretty easy to read and I think that a lot of kids would like this. On the inside cover of every book is a nice little overview for the teacher (see image below).
You can see that the sounds that are targeted are the short "a" and it is boxed on the page. Some of the other letter sounds are in included there too such as /c/, /d/, /f/, and /h/.
The high-frequency words are also targeted on the note and /a/ you can see a summary special vocabulary like "pal" and then some comprehension questions.
Now let's dive into what the child is going to see….
What makes this text pretty good? I like that the picture is very bright. The frog has a very clear expression on his face, which helps the child understand the text better. The text itself is large, easy to read, and there's lots of white space around it.
That's super important for many beginning readers because they can be easily overwhelmed by a lot of busyness or print that's too small. It's actually a visual developmental accomplishment for us to be able to read very quickly across the page and reading small print--it doesn't come naturally!
Starting out small like this, rather large is the way to go for beginning readers especially.

Here's another example of a page from "Zac's Pal."
Again, we see plenty of white space. The text is very distinct from the pictures. The pictures are inviting. Can you see the frog in the background on the left side, he's saying "A pal!" He's trying to come visit the cat. You see the short "a" repeated a lot, but it's not repeated in a rhyme unit like "at," "fat," "cat," "sat." There's a variety so we're not focusing on relying on rhyme to decode words. We're focusing on learning how to read the phonemes left to right.
Here's the next page:
Zac's expression is very demonstrative. It's clear he said he's not getting through to this cat. We see some repetition of some of these words like, "has" and certainly "fat," "cat" is repeated. I like that repetition of "the fat cat" because it eases the burden of attacking all these unknown words. Yet, it's not in a pattern that makes it so easy to predict without paying attention to the print.
We see different ways that the /a/ is popping up in a word, not just the "at" type of word. And we see not too much text and a great alignment of the text with the pictures because the text is pretty simple but the pictures help make it a little more fun.
Finally, Zac wakes up the fat cat by giving him a pat and they become new friends:
The last few pictures are quite vivid. We see that Zac has an idea, "Zac pats the fat cat." That seems to be the trick because now, "The fat cat is Zac's pal."
It's a fairly short book. It has 12 pages with around 10 to 12 sentences in total. This is something that a beginning reader can tackle, especially if there's a lot of teacher or parent parental support. This book is a great example of all the texts. You'll see very similar features with all their other book sets. They are colourful and they have lots of decodable features within the sets. And so that's indicative, I should say, of the whole series, and that was level one.
Ending with Comprehension, Especially Summarization
When you are done with the book, you can ask the students some of the questions at the end of the book (see questions below).
I really like to make sure that we ask a comprehension question where the student does the summary. Sometimes, we can ask a quick question, like, what does Zac want?
But I think it's even better to ask a higher-level task such as, "Tell me what happened in this book."
The general rule that I recommend is to ask the child to do the work of summarization because that is the hard work that we have to do as our foundational activity before we can do higher-level reading skills. We have to take the ideas that we read in someone else's words and put them into our own concepts, in our own words, and that's what summarization does.
A lot of reading research has indicated that summarizing is the most important and powerful comprehension strategy and skill. So even while we read decodable texts we still check in on their summarization ability. These books are not boring. They're certainly not great literature, but that's not the point of when we're just trying to get our kids to access print. This season of reading development is about how to rapidly get them to access print. We can do the great literary things and learn content knowledge through our read aloud sessions and other activities instead.
Cultural Diversity Represented
One of the features that's, sadly, fairly remarkable is that the children and the parents and adults featured in these books are not all white. A lot of early reading books are mostly just Caucasian characters, and they very deliberately set out to have at least more ethnic diversity.
You can see and here, this is a little bit more about her further in. Not only are we seeing a character of color, but she's also a character threaded throughout the series.
These characters keep popping up in other books too, which is nice. That helps the children affiliate with the stories and the words. Their names become less of a burden.

Here's another example where you see more ethnic diversity:
Again, you see the colorful illustrations. The images are appealing to kids, who are going to want to read these books.
Adjust Text Types to Match Reader's Needs
Thus far in this Whole Phonics review we talked about level one, which included fifteen books tackling three sounds, short vowels, but they get progressively harder in terms of more and more print on the pages. By the time you get down to the short "e" books, such as "Jen's Web," and "Mel" you see how they become more advanced:
As you can see, there is a lot of text on the hen page. The page includes all three sound words. There's a focus on the short "e", but there is also a lot of text on this page. Now, this doesn't fit perfectly with the sequence of Reading Simplified because if our kids can already read that many words, then we probably have them into texts with long vowels right now because of the way our sequences are laid out.

Nevertheless, it's pretty easy to just adjust if this is too hard for where your children are at this point. Read some of the text to them.

The book is certainly important, and we want to match the book to the reader. But a key ingredient in that bridging of the book to the reader is the teacher and how she adjusts. I would probably be reading half of this or three quarters of this to my student and let the student do the rest.
The Second Level of Books
The second level of the Whole Phonics series that have been created so far focus on consonant digraphs, such as "ch," "sh," "ck" etc. In this first row of the second level is the consonant digraph, /ck/. There are three books with that - "A Sick Rock," "Get the Sock," and "In the Den." These texts are cumulative, so all the short vowels would be popping up by the time you get to the /ck/ level. And then they have /zz/, /ll/, /ss/, /ff/, /th/, /ch/, /wh/ and /sh/ as you advance.
There are almost 15 books in this second level set. If you were to read that first book in level two about the "Sock," this will be what you'd see:
Again, notice there's a lot more print on the page, but there's still a good amount of white space around the words. And I just like the font. I think it's a good font that is easy to read. We also have the /ck/ pattern, but it's after an /o/, it's after an /e/, it's after an /i/, it's after an /a/. So, there's not that rhyming thing going on. Also the high-frequency words have built up cumulatively to this point. So "sad" and "have" and "we" and "to" and "get" have all been exposed to the child systematically, which is very clever.
At the beginning of the book, you can see the main features of the book:
The /ck/ is the emphasis, but it's going to include all consonants. There are all the sight words, "is," "the," "no," "a," and "have," "love," "so," "to" and "my." There's three lines of high-frequency words.
Supplementary Workbooks
Whole Phonics is also adding workbooks and these workbooks are nicely aligned with the text themselves.
One of the texts is "I Can Help Fox." After reading the book, this is the picture that you might see from the workbook:
The numbers are supposed to be prompting the child to organize the story in order: what happened first, second, third, and fourth. Again, it's very colorful. It has lots of whitespace and it's easy to read.
The workbooks also include games. For the book, "Get the Sock," there could be this practice of "tic, tac, toe" with the repetition of the /ck/ and here's a "tic, tac, toe" board.
There are also some teacher activities that align really well with our three core activities, for instance, here for the short "a", "Zac's Cap," (one of the first three books at the level one short "a") you would do dictation.
Maybe you could dictate sounds /a/, /b/, /d/, or /g/ or you could dictate words "has," "sad," "on." You can dictate sentences, "The cap is not on the mat." And then there's the chaining activity, which is very similar to our Switch It activity. There are some fun questions too.
They also have some phonemic awareness activities that are aligned with the book (see below):
Aligning Word Work with a Text's Focus Sounds
It's really clever when we have an alignment with the word study that we're doing with the text that we're reading because we can see the transfer more readily if we give the children the opportunity to practice it. A lot of mainstream programs will do some phonics like teach the short "a" and then they give a book to read that has very few patterns with the short "a". That's just not getting reinforced in that environment.
But there's this natural alignment here between the activities that are suggested to the teacher and the book. For example, for the book, "A Pig and His Wig," this would be the phonemic awareness exercises. Now, these are oral like the segmentation prompt would be the word "kid."
For example, "Now, children, let me hear you say the word 'kid,' what are the sounds in 'kid?' /k/ /i/ /d/, that's right!"
Then there's a blending prompt…
"Listen to the sounds in /wh/ /e/ /n/. What's the word?"
There's also an isolation prompt…
"OK, the word is 'fix.' What is the first sound in fix?"
The words and spellings align with the book. Plus, it's also phonemic awareness, which is super important. We save more time in phonemic awareness by linking print with our really popular activities like Switch It or Read It, but these are also really good to see because so many phonics programs have not really integrated phonemic awareness well.
Grab your Free Whole Phonics Decodable Reader
I am really excited about these cute little books and I think that they will serve you really well. If you want to look into this further, you can grab a freebie at whole-phonics.com. On the page, you'll see a blue tab on the right that says, "FREE DOWNLOAD. Simply click it and you will get the text titled, "A Pig and His Wig."
In addition to getting the digital copy of the book, you will also get access to the related workbook. The same images and the same types of words will match up.
The kids can also do a little finishing of a word building exercise with the same kinds of images, the same names like Max and Liz and so on.
Here are the High-Frequency words that are targeted in this book:
Adjusting Texts to Our Streamlined Approach
Some of the Whole Phonics books will need some adjustment for our audience and let me explain why. As I said, with Reading Simplified, we have a accelerated approach to getting into code knowledge.
Here is an example of our Streamlined Pathway for kindergarten students:
This Streamlined Pathway usually takes six to nine weeks for beginners to be done with the short vowel level and then we'd be moving them into step five, which would be the long /oa/--the /oa/ as in "go," the /oa/ in "note," the /oa/ in "home," the /oa/ in "boat," show," and "tow."
So, we're pushing them pretty rapidly to learn advanced phonics because advanced phonics is really what makes up most of the high-frequency words. If you look at the top three hundred Fry words, which is about sixty five percent of written language, there are very few, four and five sound words like "stop," and "felt," and "stomp," and so forth. On the other hand, there are lots of words that have high-frequency phonics, like the /ee/ sound, the /ay/, and the /ow/. The /er/ is very common such as in "number," and "mother," and "father."
If our kids are rapidly getting to read more and more phonics spellings in a short amount of time as compared to mainstream approaches, then looking at a lot of phonics or a lot of text on one page may be premature for them. If we're at the short vowel level, we may not give kids long passages like this because we're only in that level pretty quickly. (Our students may not have learned a lot of high frequency words or have the decoding speed to tackle such a long passage in the first couple weeks of reading instruction.) Then we move into step five, step six and so forth, into Advanced Phonics.
If you're not familiar with the way we work here, this may not make a lot of sense, but I just wanted to make sure that I was conveying how we would probably make some adjustments with these books as they get higher up on the level. There's just a lot of text on the page. We would probably read some of that to our students if we were using them because we're getting them out of short vowels so quickly that they haven't had enough exposure to reading to be able to read all of those smoothly.
An Example of Buddy Reading
Now let me show you an example of a pre-kindergartener who is tackling a text that most people would say is way beyond her ability, she is using learning letter-sounds like the short "e"; she doesn't even know it. She doesn't know the /l/. She's learning how to blend. Everything is really new to her because this is only her second or third reading lesson ever. She's had letters-sound isolation in preschool, but she hasn't had reading instruction.
The text that I read with her is super challenging. But in the context of the super challenging environment, she's starting to absorb stuff really rapidly. So, in a week or two, maybe two or three, she would already be on to long vowels. But you see, if it's only been two or three weeks, so it would be a lot to ask her to read something this long. That's kind of where we're coming from with Reading Simplified that we just adjust when we have texts that have a lot of print on them, we'll just read them to parts to the kids.
You can see how hard and challenging it is, but the teacher's doing a lot of scaffolding. The scaffolding in a one-on-one or small group setting allows the child to do something that's probably impossible really for them on their own. In the context of reading, coupled with the Word work activities we did to get to the spot, the child grows really rapidly. And so, then they move into Advanced Phonics and they start to learn more of the code more efficiently.
OK, so this is little pre-K kid in her second reading lesson ever. Here is how the reading lesson went
Teacher: /e/ and then hold it.
Student: /teeen/
Teacher: Ten men. Ten men. I'll help you with this one.
Student: /wweeent/
Teacher: That's right! Ten men went up,
Student: /a/
Teacher: It could be. This time we just say "a" or /a/ Ten men went up a
Student: Hill
Teacher: They went up a hill. So, 10 of them went up a hill. There they waited very….
Student: /s/ /t/ /i/
Teacher: Put them together and hold it.
Student: /st/
Teacher: Hold this sound - /sstiiil/
Student: /Sstillll/ still.
Teacher: There they waited very still. So, they went up in the hill and then they waited and let's see who's this. What is the guy's name?
Student: /Seeeth/
Teacher: Seth that's the guy's name. Seth
Student: Seth /annn//d/
Teacher: Seth and Zac
Student: /h/ /a/
Teacher: Put those together.
Student: /haaad/
Teacher: Good! Seth and Zac had their
Student: /f/ /i/
Teacher: Put them together.
Student: /fiiiii/ /fiill/
Teacher: Seth and Zac had their fill.
The text was super challenging, but she was still fine with it because she was getting support and she had a lot of grit. She quickly moves into advanced phonics in the following weeks. To give her one page that has like 20, 30 words and then another page was 20, 30 words and another, that would be a lot.
Ideally then, to adapt a longer passage like this, you would just buddy read. So I might say, well, "I'm going to read the first sentence and you read the second one. Mack yells, 'I want my sock' your turn," or if it's all too hard for the child and they're getting frustrated, then maybe they'll just read one word. "OK, Mack yells, I want my…" And then that child will read. So, the teacher adjusts based on the students' abilities, frustrations, and whether it's a good day or not.
But they still can be exposed to reading words with that /ck/ spelling. That's why this set of books is really great because it's systematically going through the phonics information that we need to give kids really quickly early on! I hope my Whole Phonics review has served you both in thinking about this particular set of texts and in thinking about how to adjust any text to meet a child's needs.
If you want to get your hands on some of these Whole Phonics books, including that special freebie we mentioned above, head over to their website and download the free digital copy of "A Pig And His Wig."
Even better, members of our Reading Simplified Academy are offered a 10% discount from the team at Whole Phonics, so check your email for that code!
Let me know in the comments below if you decide to try Whole Phonics for yourself.