Seesaw Reading Lesson Template with Reading Simplified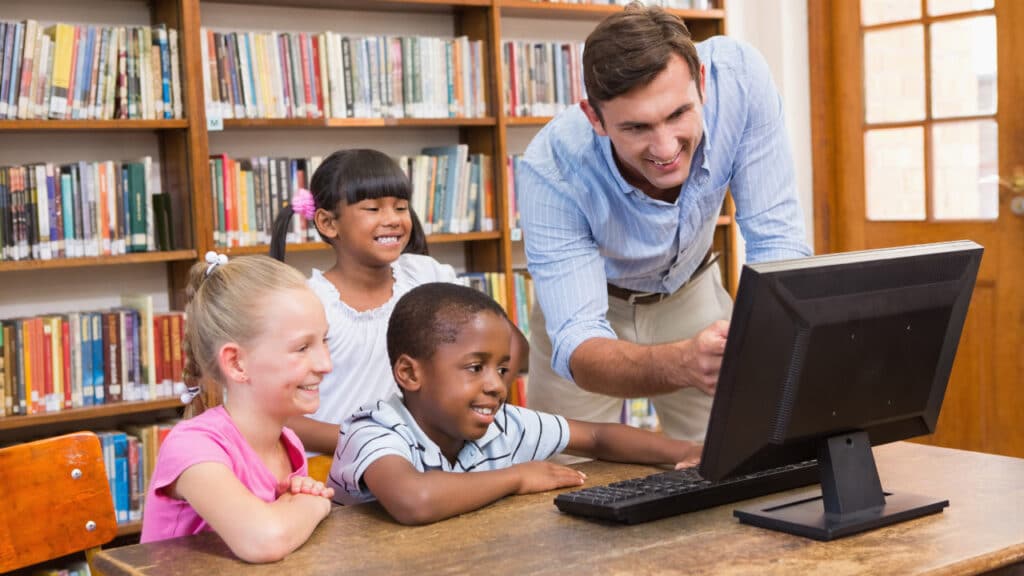 If you want to save time in your reading instruction, the Reading Simplified activities are the way to go. And, if you need to reach your students from a distance but want to do it in an engaging way, then Seesaw is the way to go.
I'm excited to marry those two things together and show you how you can do Reading Simplified activities using Seesaw. Stormy Daniels, a Certified Seesaw Educator, joined me for a conversation about simplifying remote reading lessons. She revealed some amazing tips and I'm so excited to share them with you!
On top of that, Stormy also shares a customizable Reading Simplified reading lesson template that you can use over and over again with your students and use it to adapt multiple lessons.
How to Streamline Remote Reading Lessons
[03:25] – Stormy explains the new Seesaw canvas and how you can use it to teach reading remotely
[06:03] – A look at Seesaw's lesson template and a demonstration of how it works with Reading Simplified activities (Sort It, Switch It, & Read It)
[11:20] - How Stormy incorporated videos, audio, and images into remote reading lessons
[17:35] – How to customize a Reading Simplified Seesaw reading lesson template to suit your lesson and your students reading level
[25:18] – How to navigate the Streamlined Plan for Teaching Reading Online PDF
Reading Simplified and Seesaw
Stormy is a second-grade teacher and has been a part of Reading Simplified Academy for three to four years. Stormy said that being a member of our group has totally revolutionized the way reading instruction happens and the way students learn to read in her second-grade classroom.
For those of you who are new to Reading Simplified, it is a streamlined way of teaching reading for beginners or struggling readers. It applies to a lot of different age groups because many of us encounter kids who are struggling in their reading.
The lesson plan that Stormy recommends is very similar to what we recommend as a Reading Simplified approach. We prepare teachers, grandparents and parents to learn the Reading Simplified system in the Reading Simplified Academy, which is a paid membership with virtual training and includes videos, student materials and ongoing coaching in a discussion board, which we call the Teachers' Lounge.
Now, let's see how well the Reading Simplified activities integrate with Seesaw and take a peek at the Seesaw template that Stormy is sharing with us.
Using Seesaw & Reading Simplified Activities for Home or Remote Learning
Switch It is a classic Reading Simplified activity, and it can be done remotely one on one. If you can see the student and hear them, that's the absolute best way to do it remotely. But sometimes that's not possible, right? So here is a possible way.
This is a one-page lesson template for the entire session:
The little paper clips are linkable objects.
As Stormy said, the first activity we're going to look at is Switch It. Just click the Switch It section on the template and the document will appear on screen. For Switch It, we like to do it face to face. We, like students, can manipulate the letter tiles. We like to hear them saying the phonemes. We like to see their thinking as much as we can write. Using the Seesaw template (see image below), is the best way Stormy found to replace that one-on-one connection if the student can't meet with you every day.
The student can follow along with the activity independently and play the video in the top right corner of the screen. The teacher can create videos like this very easily and doing so helps the student to blend the sounds of the word along with them.
You can really differentiate the same activity depending on what your learner needs at their reading level. If you're going into multi-syllable words with students, you can personalize it so that they can go to the next step.
Embedding Videos into Seesaw
If you're thinking, how are the kids going to know what to do? Good question!
There's a little video now that you can embed into Seesaw and in the video at the top of this post, you will be able to see how Stormy has embedded the video of her talking. She has five individual little recordings on the page that are easy for them to manipulate.
Here's an example of what Stormy said in her video to help direct her students:
"So, in this activity, you are going to start with the word at the top. And then you have to push the button with the speaker next to each box, then you are going to be switching out sounds to make new words. When you are done, either typing it, or writing in the response, finish…"
These videos could easily be replaced. If you are on the teacher version and not the student, you can unlock things, delete things, move things, and basically do whatever you want.
You can make the video and audio using the new Seesaw canvas. You do not have to go switching places because it just works. All of the multimedia was created INSIDE the Seesaw canvas.
How to Give Students Feedback
As Stormy said, in Reading Simplified, we know that we don't want students just to manipulate the beginning sound all the time. We want them to listen to the word and use those little sparks in their head to figure out what part of the word they need to switch to, to build the new word. When they're building the new word, they can use the text tool and type it if they're on a computer or they can use the drawing tool and they can write it.
"So even if they want to write it and it's with a mouse and it might be a few hours before you see them again to give them feedback. There's a way to give them feedback."
There is a box on screen that the kids can move around the screen, and it reveals the correct answers next to the answers the students have input. It's almost like a magic box and don't worry, it comes with a short demonstration video showing kids how to use it.
This is a great way for kids to learn from their mistakes. It's instant feedback. They can also save their progress as a draft and go back to it later or finish it for you to review.
Even if the kids use the word check feature to cheat, they still have to read it to you and there's no way to cheat on that. So, guess who wins? The teacher!
Sort It to Teach Advanced Phonics
You can also teach Sort It to students virtually using the same Seesaw app. This section also comes with an explanation video where Stormy explains;
"Hello and welcome to our wordlist Sort It. Today we're going to sort the words with the /ay/ sound, you can hear the /ay/ sound in these words, but this can be spelled different. If you read the wordlist above. For each word, we're going to Sort It by writing it, or typing it into the box below the spelling for /ay/ sound. If you need help to read the list, click on this little box right here and I will read the wordlist with you. Good luck!"
That's one of the coolest things about the new Seesaw canvas. If you click on the word list, you can make it bigger so that it's easier to read. It also records everything you say and do, which makes it so much easier to do reading lessons remotely.
You can also play read aloud recordings where the student can hear you and track along. The intent here is that they find words with the sounds and the different spellings of them in Sort It.
So, it's just taking the same concept of Sort It and using it in text with words, pulling the words out and doing another Sort It.
Using the Write It activity
There is a Write It activity (see example image below) that includes lines for the student to write.
You could use any lined paper that they write on here.
Stormy: Initially, I would model this a little more, have more instructions. But I teach them how to use the tool. I would have them do a word hunt just to use it, just like we would with math manipulatives in the class. We don't give them the first day we want them to use them, we let them explore. So, it's really the same thing with Seesaw or any tool.
You can save any activity and it goes to your activity library. You can save, and copy, and edit, change it, save it, whatever you want to do.
You can use the app to record everything you say and do, including the mouse pointer on the screen. This means you can highlight sections for your students and have them follow along with you.
Stormy: Now I have this little itty-bitty recording and you saw how easy it is for the student to make it big if they wanted, but most students might not even need to read aloud after a certain point, right. So that's how I did that. And I didn't go outside of Seesaw and bring a link in from YouTube, I did it all in Seesaw canvas.
To see all of this in action, I highly recommend that you watch the video on the top of this blog post, where you will be able to see Stormy demonstrate how to use the Seesaw app alongside Reading Simplified activities.
See the box below to download the free PDF, Streamlined Plan For Teaching Reading Online, for quick and easy access to Seesaw tutorials, the Seesaw Reading Simplified template, and so much more.
If you decide to use Seesaw with Reading Simplified activities with your students, I'd love to hear how you get on! Let me know in the comments below and let me know what you liked best about the Seesaw app!