Vocabulary Instruction with Informational Text – Inspired by Freddy Hiebert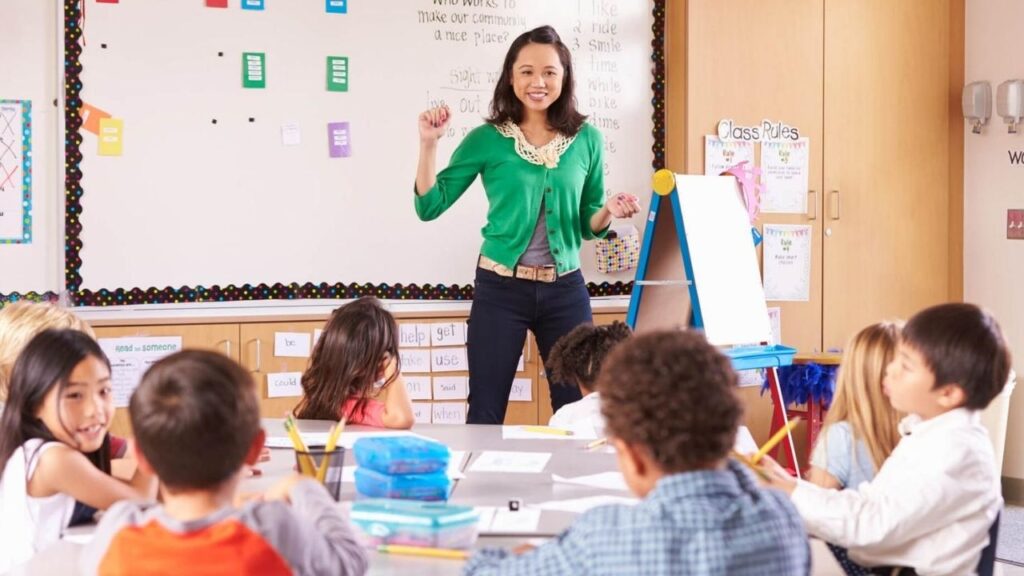 Would you like to make small changes to your vocabulary instruction that result in BIG outcomes?
In my previous post, Vocabulary Instruction with Narrative Text – Inspired by Freddy Hiebert, I discussed some insights from Dr. Elfrieda Hiebert's incredible book, Teaching Words and How They Work. We explored how to make minor changes in our vocabulary instruction around narrative texts, that would make BIG differences for our kids.
However, there is still so much to uncover from Freddy's book!
In this post, I want to dive into the topic of informational text and vocabulary instruction. I also want to discuss two problems that we are seeing in our vocabulary instruction and the solutions to these BIG problems.
Vocabulary Instruction with Informational Text

[02:47] – An overview of the "Simple View of Reading" (Decoding x Listening Comprehension = Reading Achievement)
[08:08] – The two big problems with how we approach using (and teaching) informational text
[14:07] – Solutions to help resolve the "two big problems" without uprooting your entire curriculum
[18:15] – Helpful resources to help kids build knowledge, vocabulary, and stamina (e.g. Article-A-Day from readworks.org)
[29:28] – How to teach kids core vocabulary by focusing on themes, images and word families/networks using resources from TextProject
[34:10] - Tips to teach students how to learn content vocabulary on their own


[If you'd rather read the transcript from the above video on vocabulary instruction, here ya go...]
The Simple View of Reading
Historically, a lot of English language teachers were not doing much informational text instruction in the U.S. with a shift towards the Common Core. A lot of that has changed. But, along the way, we might have been underprepared about how to teach with informational texts.

Dr. Freddy has identified two major problems with how we go about using informational texts. The good news is that she also provides some easy fixes!

First, let's set the stage with a big picture overview of the "Simple View of Reading," so we understand where vocabulary fits into our goals of boosting reading comprehension.

The 'Simple View of Reading' is a highly researched concept about what it takes to become a good reader.

For all of us as teachers or parents who want our children to be great at reading achievement, how do we get there? It's really just through two simple things…

It's decoding interacting with listening comprehension – that's the key to reading achievement!
Those two domains are the huge domains that drive the potential for beginning readers and mature readers. We keep coming back to this here at Reading Simplified because it helps simplify how to think about our instructional choices....
Are we doing a great job with decoding?
Are we doing a great job with listening comprehension?
When we have a flurry of things casting demands on us, we have to go back to the fundamentals. Remember the foundations, I call these the "big rocks." For reading achievement, the two big rocks are decoding and listening comprehension.
Let's think about this a little bit in more depth…
Here at Reading Simplified, we specialize in how to get kids to become good at decoding rapidly. A lot of kids can learn to read chapter books in a matter of 12 weeks, maybe 24 weeks, which is a lot faster than traditional instruction. Since it can be so much more quickly done, and it's so much easier for the child, for the teacher to just to disseminate, we talk a lot about it here at Reading Simplified because the standard practice is not working for us!
When we look at our national data such as fourth-grade reading level, 65% of kids are not proficient. A lot of that has to do with this domain of poor decoding. If you have not yet figured out a way to get all of your kids good at decoding, word recognition and fluency, I encourage you to track down some of our resources here at Reading Simplified.
Two Big Problems with Our Vocabulary Instruction Using Informational Text
In her book, Dr. Hiebert points out two big problems with how we approach vocabulary instruction with informational text. I think we have all experienced these issues, so let's discuss them!
1. Haphazard content instruction
This refers to instances where content is exposed to students haphazardly, with no real strategy or even purpose in many cases. An example would be a situation where a group of third-graders is reading about birds of prey one week and the next, they're reading something about sheepdogs protecting penguins. The week after that, they read about the authenticity of Mona Lisa. While all of these things are fun to learn about, they certainly aren't connected. There's no theme. There's no chronology there. There's not a thematic or scientific topic, and there's no historical chronology built into that. The information is haphazard.
In our English language arts curriculum, we are getting more and more informational texts, which is good, but the texts themselves are bouncing around too much. We can't teach haphazardly and think that our kids are going to pull all the pieces together. We need to set up our curriculum in such a way that we are serving all of our students and haphazard content learning isn't going to cut it!
2. Just teaching background vocabulary before reading text
When we teach background vocabulary before reading a text as our primary strategy, our kids miss out on the opportunity for great reading achievement. It's not that it's necessarily bad. We want to find the words that are going to cause our students problems, make sure they're aware of them, maybe teach them ahead of time, and help them to decode and maybe comprehend the text better. Teaching background knowledge before the text is not a problem. However, the problem is when we think that doing this is sufficient, and that it's the main engine of how we're going to get our students to become better readers.
If we're always focusing on vocabulary, and we're not thinking about other strategies, we're leaving the students to be dependent on us. If we're going to build them to become independent readers, we need to build in strategies so that they do the heavy lifting of figuring out how to solve word problems for themselves. I'm not talking about decoding. I'm talking about how to figure out which words are the words to pay attention to, and how to figure out what they mean.
Solutions for these two big problems
The good news is that there are solutions to both of these problems!
If your content is coming to you in a haphazard way, what can you do to restructure it? Can you reorganize the content that you already have and/or add to it (or just subtract it if you have the freedom to do so in appropriate ways), so that there's some semantic coherence to what you're doing?
Ideally, we would be doing this because it was our curriculum. Kindergarten teachers would have clear content and a body of knowledge built in. They would be supporting what's going to happen in first-grade and that body of knowledge would build on what's going to happen in second grade. We don't generally have that in the US and many English-speaking countries.
The first solution to haphazard content learning is to teach coherent themes. Choose a theme, stick with it and read a lot of things on that theme. Talk about the words and build word networks around those words.
The solution to just teaching background vocabulary before reading text is to teach students how to learn content and vocab on their own.
Getting kids to be independent readers is the solution for making sure that you're not always the only one teaching them the vocabulary. The key is to teach your students how to learn content and vocabulary on their own. And that will become more and more important for our learners as they move up through elementary. They have to learn how to recognize words, and to be able to read them.
Helpful resources to help kids build knowledge, vocabulary, and stamina!
Now it's time to look at some great resources to help you teach coherent themes and make sure that the students become strategic and how to learn vocabulary on their own.
The first resource that I recommend is "Article-A-Day" from ReadWorks.org.
ReadWorks.org is a free resource that provides lots of graded passages that are often informational. And Dr. Hiebert inspired the idea of Article-A-Day and it's a fantastic resource. You can read one article a day and across several days, stick to a theme. Doing this will help to solve the part of the problem of teaching haphazardly.
Here's a super way easy way to adapt this to what you're already doing without making it too overwhelming!
It's a 10-minute routine that students will generally find engaging. Plus, they have everything laid out for you which means you also don't have to create a lot. It also comes with a section for students to do at the end, which helps them to be more accountable and build knowledge.
Of course, there are so many different ways to use this program. You can take their passages and read them on some sort of digital device, you could print them out, or you can put them on the projector. You can also change it up every day and do something different. But for now, let's look specifically at the Article-A-Day routine.
They give you a one-page handout for how to do their simple routine. Here is a screenshot of part of that page:
(I can't provide the entire page but you can easily find it for FREE on ReadWorks.org)
They have their articles set on a specific theme. There are about six to nine articles related by topic, so you can read all of them or break it up over five days in a row. Either way, you have a lot of choice and flexibility.
It's very exciting when you see that your kids are learning the content, vocabulary, and concepts from the passages they have read.
How to Use the Article-A-Day Routine
The Article-A-Day resource is a simple routine. You give them one article to read and tell them that they're going to learn more about the world (for example). It could be as simple as that. Then, they read the short passage. They can either read it aloud, read it silently, in small groups, or you can read it to them. They could do it all at the same time or they can do it scattered throughout the day.
Article-A-Day is a great transition activity. When kids come in from recess, and you want them to settle down, they'll know the routine must begin. They'll fill out their book of knowledge, which is just a fancy way of saying they collect a couple of sentences that they write about what they've learned after each time they read something new.
We know that summarizing, rewriting and taking notes are really powerful ways for learning to 'get stuck.' There is also a place on the ReadWorks.org website where you could have each student have their own digital book of knowledge, and they can simply add little passages one after the other.
There are so many Article-A-Day sets to choose from that consist of a wide range of topics and themes. Some include themes like physical science, ancient animals and fossils, small and big animals, weather and climate, staying fit and healthy, and many more.
Here are a few examples of the type of fun articles you can find on ReadWorks.org:
As you can see from the screenshot above, you choose an article, and you receive the passage. On the top of the screen, you have options to assign the passage, print it as a hand-out for your kids, and so on. You can also view more articles on similar topics. The overall theme is the planets and the solar system. So, the website will recommend related articles based on things like planets. There are so many great themes to explore, this is just one of many!
If you want to browse some more of these sets, you can view some of ReadWorks Article-A-Day sets here.
You can mix up the themes as you go. One week you could focus on animals and the next, you can have your students read about sports. It's very easy to use and navigate. With just one click, you get a whole text. You can print them out or share the screen with your kiddos and have them read it digitally. You can even assign it through the ReadWorks.org website.
These passages use a lot of similar words related to the same theme, which will help kids build their knowledge on word networks. To dive further into this, go to TextProject.org.
Vocabulary Instruction Made Easy with TextProject Resources
If you go to TextProject, you'll discover a wealth of vocabulary tools, including a content area that focuses on core vocabulary. One of the main principles Dr. Hiebert covers is that there's a core number of word families that make up 90% of the text kids are going to need to read before they even leave high school.
Core vocabulary is so important for our kids to not only recognize, but they also need to know the meaning. So, Dr. Hiebert has condensed them into different topics and you can use her powerful tools, which include a lot of visuals to help English language learners.
If you are teaching something about transportation in your social studies, or science, or English language, for example, you can do the Article-A-Day on that theme. Then, you can head over to TextProject, pull up the transportation images, and you've got a whole bunch of things you could do. You can also find a lot of keywords that relate to your topic of choice.
Here's a few examples of this type of visual resource from TextProject that focuses on the theme of water:
As you can see, the associated words relating to water are connected to networks. This is a great resource for many reasons, including helping us to avoid teaching vocabulary haphazardly.
You could talk about water in terms of the states and forms of water, you could talk about water with regards to landforms. You could talk about water with regard to the words that describe water and weather and then you can talk about water and bodies of water.
(You can find this 'Water, Water Everywhere!' PDF from TextProject here.)
Using resources like this, your students will learn all about water, including key core concepts around the theme of water. They can explore things like what things can do in the water, what can float on water, things that might sink in water, imagining themselves underwater, how water can freeze (and then melt again), and so on.
This is an example of just one of the topics you can focus on. Even if your curriculum isn't grouped thematically, and you have to do certain things, you can still fold things around it and use these Articles-A-Day, maybe use trade books from the library and then pictures like the ones shown above from TextProject will really help flush things out for your students.
Teach Students to Learn Content Vocabulary Independently
There's a lot of different ways to teach students to learn content vocabulary on their own.
One of the problems is that we just teach students the background knowledge, before we read something, and we don't prepare them to do the figuring out of the words, and how to know which words are important. To resolve this, you can teach them to pay attention to the bold words. Some kids don't intuitively get that they need to focus on the bold words. If this is the case with your kids, draw their attention to that across the course of the year so they can master it without your help.
Similarly, teach them to notice repeated words, especially in a science text, we're going to have a lot of repeated words and you might also find this is the case for many history texts too. Teach them how to discern words. They can use a dictionary or search for the word on Google using Google Dictionary. When the results appear, help them discern from among the choices they have.
You can even get them to collect words in their own personal dictionary. They may have their own personal dictionary and you might even have one in the classroom. They can use these dictionaries to build word networks and add to them as they encounter new words.
Kids also need to learn to recognize appositives. A lot of kids don't know that one word or phrase can be the definition of a noun or a noun phrase in apposition to it. If it's a new word or concept, the author will usually define it. You can usually find it in the glossary off to the side or right back to back with the subject.
You also need to teach students how to draw or show relationships among words and ideas. This involves getting the students actually to draw and show relationships among words and ideas. There's so much there that they could do on their own and show agency or how they're connecting words like evaporation and precipitation.
I hope you find all of this helpful, especially when it comes to teaching vocabulary instruction with informational text!
I'd love to hear how you get on with some of the resources mentioned in this post, which was your favorite? Do you have any useful resources to recommend to other teachers? Share them in the comments below!