Join the Spring Forward 25-Day Challenge!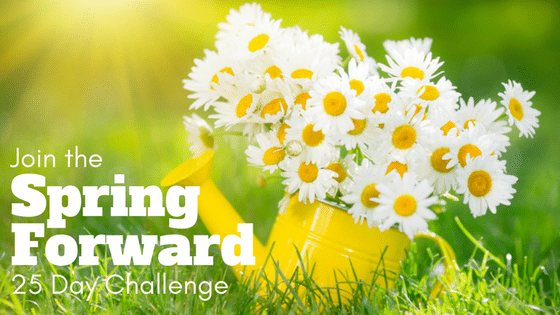 Are you counting down the days till summer break?
Who's not, right?
With over-testing, kids' spring fever, students who are not progressing as we hoped, and the arrival of warm, blue skies, we may be a tad less effective in our teaching in the last few weeks and days.
I know I've gotten too worn-down and taught with much less effort in May than I had in September.
I'm not alone am I?
A Spring Forward 25-Day Challenge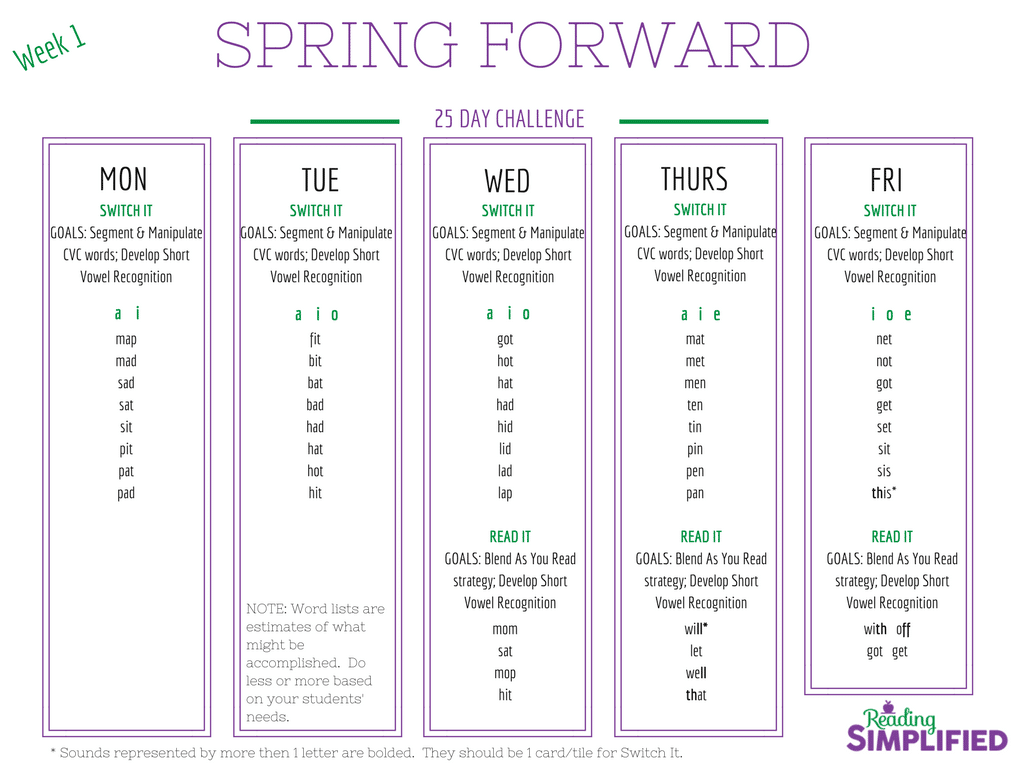 But we love our kids and the academic need is great, right?  I have an offer to help us all not slink into summer….
Rather, let's join forces for a Spring Forward contest!
I know it's actually not too late to see significant growth with your struggling readers before the school year ends.
And when you actually witness them growing each day, you will gain hope. You will add a little pep to your step.  You will actually look forward to the next day of school because you know your student(s) are going to progress Because. Of. Your. Instruction.
Priceless.
I'm not suggesting you work harder, or work longer. Rather, I will hold your hand with small, little steps every day so you will see success.
Each week, I'll show you the counter-cultural activities–just a few–that accelerate all my readers. You can easily add one activity at a time till your cranking out life-changing lesson plans. I see it all the time!
If your students are higher than this plan, you can still use it as a general guide for what to add each day. I'll offer more specifics for what you could do via email and Facebook live.
The Contest
Anyone can snag the freebies, learn the activities, and try some or all of the activities with their students.  Those who think they can make a big difference with the 10 to 30 days left in the school year can enter the Spring Forward contest.
I'm looking for a winner, or two, are you in?
To participate, select a struggling student or students to target for the rest of the school year. Download the Spring Forward PDF below and follow each day's simple activity.  You can get direction in a few places:
in the Spring Forward PDF,
via emails from me, and
watching occasional Fb Lives on each activity.
THEN, when your school year ends, whether it's next Friday or June 9, enter the brief story of how your student(s) progressed in the comments below.  I'll pick winners based on the significance of the change.
First Prize: a 3-month subscription to the Reading Simplified Academy to discover our entire streamlined system that accelerates all students' achievement (worth about $120)
Second Prize: 5 complete Sort It and Guided Reading packets for 5 different Advanced Phonics sounds (you pick the reading level)
All Commenters: one more Sort It and Guided Reading packet of the /ee/ sound (the /oa/ sound packet will be given away during the challenge)
Some of you are pumped!
But some of you are concerned it will be too much.  Look at the image above.  Notice how you only start 1 little activity for the first 2 days.  It's baby steps.  But each step, each day, will add up to so much more than the sum of its parts.
I hope you'll give it try!  Let's not countdown till we escape into summer….rather let's countdown how many more days we have to boost our struggling students' reading before they leave us…  🙁
Who's in? Please let us know so others can be encouraged!  Or, please ask any question in the comments below.
Learn more by following us on our Facebook page here.