Decodable Texts Matter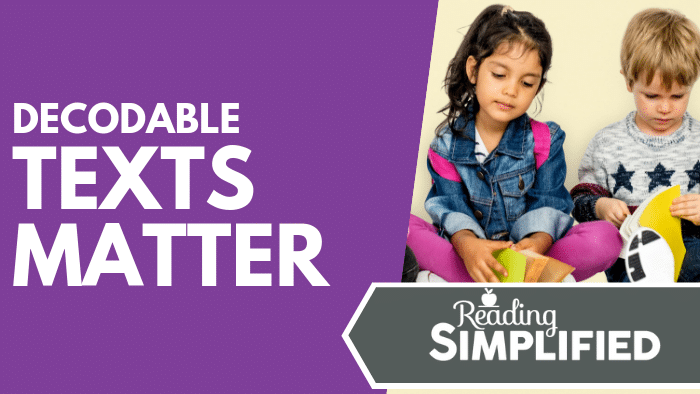 Did you know that one of the key elements we need to provide our beginning or struggling readers is a strong text selection?
What we use to read with our students makes a heap of difference, and yet the importance of decodable texts is often overlooked.
In this blog post, we investigate why decodable texts matter and why they have such a huge impact when it comes to developing strong sound-based decoding skills.
(To watch the video where I discuss why decodable texts are so important in more detail, hit play below or read on for a detailed overview)
What is a decodable text?
A decodable text refers to a text that contains words that have the phonetic code that the student is already familiar with. In other words, a decodable text matches the level of the student's ability to decode them from a sound-based decoding approach.
To find out if a text is decodable, you need to compare the phonetic structure of the vocabulary to the student's level.
Why should beginners or struggling readers read a decodable text?
A study by Cheatham & Allor found that decodability is a "critical characteristic of early reading text." The reason is that it increases the chances that students will depend on a decoding strategy rather than a rhyming approach to read words, which results in immediate benefits such as improved accuracy.
If a child reads a rhyming text with words like "fat, cat…", the student can use rhyme to figure out that the next word is "pat."
This is a problem because the student isn't blending the sounds of the letters. To get the code, the student must use phonologic processing skills, which comes into play when they read a decodable text.
Decoding is an umbrella term. Knowing the letter sounds or the phonics information is just one element of the equation. There's so much more to it than that.
Kid's must be able to blend the sounds and use the Blend As You Read strategy rather than incorrect strategies that can lead to reading difficulties.
If you want to learn more about the Blend As You Read strategy and the key activities that can help students improve their sound-based decoding skills rapidly, visit readingsimplified.com/start-here/
The Relationship Between the Alphabetic Principle & Strong Sound-Based Decoding
When kids try to read a book for the first time, they don't know how the written code works. It's up to us, as teachers, tutors or parents, to pass along the truth that our language is a code for sounds.
They also need to grasp the concept of the alphabetic principle, which is the idea that the written language (i.e., letters and letter patterns) represent sounds in spoken language.
Understanding the relationship between letters and sounds is vital for developing sound-based decoding and reading skills.
So, where's the best place for beginners or struggling readers to practice this concept about how our code works?
Most likely, the answer lies with a text that doesn't contain a lot of complicated words.
A suggested decodable text for early readers
If you're working with a level 2 reader, I suggest the decodable text, "A Pig, a Fox, and a Box" by Jonathan Fenske. It includes simple phrases such as "I am Fox," and "I am Pig," etc.
A decodable text like this is ideal for beginners because it helps them practice and develop the skills they need to decode correctly. A text that constraints and focuses on words that the student may have learned are perfect. For early readers, a text with three-sound words is much more suitable than say, a six-sound reading passage.
"A Pig, a Fox, and a Box" is a quotable text that's not too complex because it focuses on short, simple words.
It also targets vowel sounds, which is excellent when it comes to practicing the Blend As You Read strategy and understanding the concept of the alphabetic principle. You want to look for similar texts that are mostly decodable so that kids are set with a strong sound-based decoding foundation.
The problem with predictable texts…
Many kids start their reading journey with predictable or patterned text. An example of this would be something like, "I am a fox" or "I am a bear" etc. In cases like this, most of the text on the page will repeat a similar pattern with a small change to each sentence. Usually, this change is represented by an image.
Predictable texts are great for establishing context to help kids figure out words. However, they're not great for teaching phonics. The problem is that, instead of decoding the words on the page, the student is more inclined to make a guess based on the picture and other features of the text.
This leads to the student picking up other strategies to figure out the words and a lot of the time, the strategy is based from memorizing the way it looks without connecting sounds to symbols.
But, what happens when you take away the pictures?
Most often, the student is left confused and struggles to get the words right because they haven't worked on building their sound-based decoding foundation.
The Importance of Phonics Instruction & Texts
Instead of relying on guesswork and memory, you've got to teach your kids to read from a decoding perspective. This will make them much stronger readers because they won't have to rely on a picture to get the word right. Phonics skills are usually not taught or practiced when working with predictable text.
Decodable texts, on the other hand, control the phonics pattern within the text itself, which means that students are more likely to put their decoding skills into practice. It doesn't use the same pattern throughout so that the reader will have to look at each of the words more carefully and work a little harder to figure it out.
A study carried out by Mesmer in 2005, that investigated the effects of highly decodable texts and coordinated phonics instruction, had some fascinating results. The study showed that
"Readers with the knowledge of the alphabetic principle, given the same phonics instruction, will apply it more (and with more accuracy and independence) in a highly decodable context."
A good reader doesn't rely on memory. They read words from a sound-based approach. And then, over time, through automatic recognition built on the sound-based decoding foundation.
Using mostly decodable texts means using texts that allow students to exclusively decode the words that are perfectly aligned with what they have already learned. This helps to develop cognitive flexibility while helping them to self-generate a strong sound-based decoding strategy.
If you want to geek out about this a little more, I suggest you indulge in some further reading of David L. Share's "Self-Teaching Hypothesis," which explores phonological reading and orthographic learning.
You don't have to use decodable texts with your students forever, of course. If you're implementing the principles we use here at Reading Simplified, and your kiddos will learn the code in about 12 weeks.
You can find out more about the Reading Simplified Academy, where you'll receive ongoing support and resources to help streamline your kids' reading achievement, here.
If you'd like to grab your FREE exercise in analyzing decodable texts (retrieved from the Reading Simplified Academy archives), leave your name and email address below, and you'll receive the complete exercise delivered to you as a downloadable PDF. This PDF also includes a few example pages from "A Pig, a Fox, and a Box' in addition to some examples of decodable texts you can use with your students!