I recently had the pleasure of joining Anna Geiger of The Measured Mom for an episode of her podcast Triple R Teaching.
Our topic was Set for Variability, a lesser known reading strategy all readers need – and you can teach.
Anna is a pro at grabbing valuable insights from the latest reading research and translating those insights in a way that resonates with teachers.
It's a great complement to what we do at Reading Simplified.
Although the label Set for Variability may seem intimidating at first, this reading strategy is refreshingly simple – yet powerful.
So where does it fit?
The Set for Variability reading strategy can be helpful once students have used their letter-sound knowledge and a blending strategy to decode a word – yet there's still a mismatch between what they decode and the actual word.
There's growing yet tentative evidence that teachers can support the development of a Set for Variability…it's TEACHABLE! Dyson, Best, Solity, & Hulme, 2017; Savage, Georgiou, Parilla, & Maiorino, 2018; Zipke, 2016.
And it's actually pretty simple to get started teaching this strategy in the context of other things we know about early reading and what we are already doing in the classroom.
Short, consistent feedback while students read to us aloud and a powerful game to prime the pump can help you start teaching this strategy tomorrow in any text you are using for decoding instruction.
And the bonus – it will set students up for reading transitional texts sooner when we add these simple strategies to our toolbox.
Jump right in for a great listen!
Otherwise…
Read on to gain a little more insight into this strategy.
What is Set for Variability?
Set for Variability is a strategy that a reader uses to transform a pronunciation error into the correctly decoded form of the word.
Another easy way to label it would be – "mispronunciation correction."
If you've been teaching reading, you've seen this happen. 
The child looks at the word "down" and says, /dōn/, but he recognizes that's not a word, so he adjusts to come up with /down/. 
He went from the mispronunciation of /dōn/ to the correctly decoded form /down/, and then he's off to the races.
That little cognitive flip is a strategy that kids need to apply, and it turns out scientists haven't really been studying it until recently. 
Some really exciting things are being discovered by researchers, just in the last few years especially, about the importance of this decoding strategy.
The authors of one study figured out how to actually operationalize it, or analyze this skill specifically apart from all other reading sub-skills. To test for a child's Set for Variability, researchers create a task apart from the written form and just play a game orally. 
For example, if I say aloud, /breek-fast/ can you transform that into a word that is a real word?
Yeah, /breakfast/. 
Or if I say, /Mow-there/, you might transform that into /mother/. These are examples of the researchers' "Set for Variability" test–an oral task.
A new model for word learning
Researchers have discovered that when they give kids that oral Set for Variability test, it correlates to a lot of reading measures, particularly word identification–being able to recognize words immediately. 
Researchers have also noticed when they use that kind of test that it's a second important strategy for word decoding. 
The first, most important decoding strategy is a blending strategy.
As teachers, this new research and insight is truly significant.
Especially if we come from a phonics background…we likely need to update our mental model about early reading development.
Most of us have a mental model where to get to a decoded word, a reader needs letter-sound knowledge, then to blend those sounds together, and finally come up with the word, right?
In mainstream thinking, those are basically the two elements. One has to recognize the letter sounds and then blend those sounds together, especially for a single-syllable word. 
Letter-sound knowledge + blending skill = decoding skill 
[With multisyllable words, you might add some other strategies.]
Those are just two steps, and so that's what you've probably focused instruction on, coached for, and planned for.
2 Strategies we can teach in a 3 Step model of word learning
But there really should be a third step. 
Letter-sound knowledge + blending skill + Set for Variability = decoding skill 
Given the recent science, our approach to early word reading instruction needs this shift:
letter sound knowledge, 

blending, and then 

mispronunciation correction, aka Set for Variability. That is a second strategy we should add to our mental model of how kids decode.
Another exciting aspect about this research – 
Not only do proficient readers possess the Set for Variability strategy but – we can teach this skill.
And although this cutting-edge information is still preliminary insight… 
And there have been just a handful of studies showing that one can actually intervene to develop the skill and that it will benefit kids in their reading… 
From my personal experience with all the programs that I've done for almost twenty years – I have always used that second strategy. 
In Reading Simplified, we call it "Flex It."  The reader is flexing the vowel of the /oa/ in the misread /d/ /ō/ /n/ and plugging in the /ow/ to accurately read "down" instead.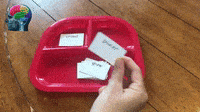 Helping beginners practice Set for Variability
During our conversation, Anna reflects on the impact of text choice and its implications:
So with beginning readers, if we're giving them one hundred percent decodable text, as in there wouldn't even be the word "the" for example, they're not going to get any chance to practice this. Correct?
And she's right, they won't get much chance… because they're not encountering anything that they haven't been taught. 
There might be some chance though, because even if they've been taught, it doesn't mean they've mastered it yet. 
And that's why at Reading Simplified, I advise the use of mostly decodable texts.
Because I believe you can actually bring this strategy into your teaching from day one, regardless of the text choice.
Prompting a Set for Variability is a simple process
Even if you have a highly decodable text, and the child gets to the word "sat" and she just kind of whiffs on maybe the /a/ sound, and she says, /s/ /ay/ /t/,…
You can employ this simple strategy by tapping on the "a" and saying, 
"What else could this be?"
And that's it! 
You're prompting her to use her own cognitive flexibility to play around with the sounds and try to figure it out. 
By the way, if she can't figure it out, there's certainly no problem saying,
"Try /ay/." 
It's not like you have to always withhold the information and put all the burden on them…
…But you can have a mindset of first seeing what students can accomplish without your intervention or with the least intervention possible. 
And then if there's frustration or they're not going anywhere, you can always give them the bit of phonics information that they need.
Other prompts might be,
"Try another."
"What else?" 
Sometimes I like to affirm their attempt, 
"Yes, it could be." 
And then follow up with 
"What else could it be?" 
That's really what I do the most. 
Set for Variability with a flexible approach to reading long words
This strategy of Set for Variability works in longer, multisyllable words as well. 
When students can blend a single syllable word pretty consistently, and they've been learning a lot of advanced phonics, like the long vowels or the /er/ sound (as in the /er/ in "her" or "girl" or "earth" or "fur"), then they are ready to be introduced to longer multisyllable words.
We begin with the easiest level – two-syllable words.
In Reading Simplified, we have one easy strategy for teaching multisyllabic words. We would show them words already chunked, like the word "funny." 
We would write F-U-N-N because that's the first chunk of sounds, and then we'd write Y, because that's the second chunk. 
Notice that we're organizing it by phonology instead of by the dictionary's guidance, because we don't say fun-ny with two /n/ sounds. The word "funny" just has one /n/ sound. 
Thus, because we're focused on speech first–language – that's how we orient the child to the chunks in words…
The child sees an example of a word by chunk, and then she would write it by chunks after she's decoded it. 
She would write the chunk "funn" and she would say, /funnnn/; leave a little space on the board; and write "y" and say /ee/ as she writes.
So she gets that modeling and explicit examples of several simple two-chunk words where it's already displayed, and she practices writing it.
We know writing and connecting the sounds is super helpful for building orthographic mapping or getting words to stick automatically and helping learn phonics information.
So this is the beginning of the process of internalizing how to attack multisyllable words. 
And it becomes easier and easier for this child to start to pick up the patterns unconsciously of our language. But that's step one.
So now, let's take a look at where and how the Flex It decoding strategy comes into play….
Step two would be to move her into a book – either a decodable or transitional text.
Or, if I have an older reader, he's immediately moved into a novel that's at his level.
And that's roughly the grade level students are reading at with some challenge – this isn't using a book leveling system.
Here's an example:
Let's say he comes to the word "alternate" as in "She was the alternate," and he chunks it wrong.
You would just cover up the word and reveal it chunk by chunk, with a little card or maybe your finger.
So he would see first "al", and he would say, /al/. Then you would reveal the next chunk, and he would say, /ter/.
And so he would say, /al ter/, and then you would reveal the whole thing, or maybe cover up the beginning now, and just let him see "nate." 
He'll likely say, 
/nayt/ 
This is when Set for Variability begins.
He decoded it as, /nayt/ but then he realized this doesn't really jive with how he's heard that word. 
So then he flexes into the right sound, 
/al ter nayt/ … oh, /alternate/!
This pronunciation might be the schwa or even the /e/ sound (depending on whether "alternate" is a noun or verb, determines the stress and pronunciation of the last syllable).
So we move from a word work activity then into print. And then of course we're doing a lot of writing, and he's writing in chunks. 
He can also look at words that are already written but aren't chunked.
Now this would be phase two. 
We just show children a word like "difficulties," and then they have to mark where the chunks are – a slash between "diff" and "i" and "cul" and "ties."
And then again, they would map it or say the sounds as they write it, diff-i-cul-ties.
So those are the main decoding activities that we use with Reading Simplified to help students attack multisyllable words.
What we see is that kids internalize more and more about the patterns of syllabication.
Consequently, we do not need to burden our students with excessive rules regarding syllable types, such as whether they are open or closed, for example.
This internalization happens because the brain is amazing at connecting the language system with the orthographic system – doing this work, mostly subconsciously.
How to use Set for Variability with your dyslexic students
Does this approach work for the dyslexic learner?

Yes!

Our truly dyslexic kids will likely be less skilled at statistical learning (explained in the next section), but we can still use the same strategies. 
The distinction is that we just need to provide a lot more practice with the patterns that we think they're not noticing. 
So if the pattern is open-closed type syllables, we could have them sort words by those distinctions, but they don't have to label it "open" or "closed," "long" or "short." 
They could just read words and then decide whether it fits with the sound of /a/ or the sound of /ay/. 
Notice yet again, we're focused mostly on the sounds that they hear. 
As they do the work and sort those words, these patterns get picked up by students – even students with dyslexia in my experience. 
This teaching process takes Set for Variability from a strategy taught to an automatic skill used by the student.
What is statistical learning?
Here's the big picture:
Throughout our lives, we learn oodles of things about the world through the subconscious observation of patterns – particularly in childhood.
We group things together into categories that help us process information in a split second. (Like observing patterns in people's faces.)
However, even though we have the ability to subconsciously observe patterns in our world, that doesn't mean young children can be expected to simply subconsciously deduce how our written language code works.
There are very, very few people in this world that will deduce how our code works just by looking at those squiggles on the page. 
We have to be taught.
And there is a robust line of reading research – that goes back 50 years – underlining this fact.
It takes coaching for a child to synthesize letter sound knowledge. 
Blending and Set for Variability are two strategies children need to learn from you and then…
…They must practice.
But at some point, and the point varies for each individual learner, more and more of the learning becomes implicit – subconsciously observed patterns from reading practice
We observe patterns that we see from reading, and unaware, we begin applying "the rule".
For instance, Rebecca Treiman and her colleagues have demonstrated that even as early as first grade, some strong readers come to a nonsense word that ends in E-A-D, and they don't say /eed/, they say /ed/, which is a variation on what you would expect (See this study, or this one). 
The better readers know that E-A-M would be /eem/, but E-A-D would be /ěd/ because they've seen it in the words "bread," "dead," and "instead."
So it's amazing that they could be that young where they've not been explicitly taught, most likely, that sometimes ea is /ee/, sometimes it's /e/, and know how to apply it because we're talking about a nonsense word. 
Because it could be /eed/, it could be /ed/, it could be /ayd/, as in the E-A in "great."
So why are they applying that? 
They read "dead" and "bread" enough times that they're subconsciously, through statistical learning, realizing there's something associated with this ending that's going to trigger me to say /ee/. 
That's implicit learning through observations of patterns.
Statistical learning & David Share's self-teaching hypothesis
David Share had a very influential article in 1995, and it has since gone on to be validated with lots of studies. 
This 1995 article elaborated on the concept of Self-Teaching. 
His idea is that we can't possibly be taught every single phonics spelling.
And we can't be taught every single word.
Why?
Because by the time a kid leaves high school, they know 20,000 to 40,000 words.
So Share demonstrates that at a certain point in the process as a reader develops, students gain the concept of the alphabetic principle:
They have sufficient phonics knowledge, 

They have sufficient phonemic awareness skill, and 

They have a decoding strategy. 
So with all of this knowledge, skill, and strategy together, students can begin to uncover patterns themselves and begin to self-teach themselves about word parts and words as well.
You're probably seeing kids like this where they're reading a text, and maybe they figure out a word that you haven't taught them, or maybe they figure out a phonics pattern that you haven't taught them. 
They're putting all those elements of the triangle together – the semantics (meaning), the phonology (sound), and the orthography (spelling). 
They're automatically processing and deducing.
So we want to get our kids as quickly as possible into challenging texts.
And – we want them armed with the strong sound-based decoding skills necessary to do that processing to uncork the trickiness of a word like "pterodactyl." (Listen to the episode to hear my memories of unlocking this word.)
You prepare the way through explicit instruction, giving them good coaching on how to be strategic, giving the bits of information they didn't know along the way, and now – they're off to the races.
How Set for Variability works with decodable texts and non-decodable texts
Anna reflects on practice and what we know and don't firmly know yet: 
Anna's so right, it is totally sticky. 
We don't really have a clear-cut answer, and I don't think we'll ever actually have a clear-cut answer for X percentage on day five of instruction versus X percentage on day 105, because each child is so different.
The big idea that I would like to send out into the world is this:
If we begin with the understanding of how word reading develops, and that Set for Variability is part of it, we will be preparing the way for an earlier entrance into transitional text.
Highly decodable texts – if we camp out in them – could limit the child's opportunity to practice Set for Variability. 
They could also limit the child's opportunity to observe the patterns of our language. 
Students can't really do as much statistical learning – if they're spending a whole year in CVC text.
Our code is much more complex than that.
And the sooner they understand complexities like – 
One sound can have multiple spellings; the /oa/ sound can be the /oa/ in boat, the /oa/ in snow, the /oa/ in home, the /oa/ in go, or the /oa/ in show – the sooner we can move them into more difficult texts. 
When children grasp a more advanced understanding of how our code operates, they gain an early introduction to exploring sounds and words, which is essentially the essence of Set for Variability.
They can also gain an earlier advantage in the necessary information-gathering process for effective statistical learning…
But – when you camp out in one letter equals one sound, you're not learning how the code works. 
We need to prepare them to be flexible.
And it would take too much time to rely solely on their observation of the patterns.
If they don't see the "oa" until they're in their tenth month of school, they won't be able to embrace the sophisticated concepts Rebecca Treiman's research says is happening in the middle to end of first grade.
With Reading Simplified and all of my tutoring, it's not as if I go straight from a decodable text into a transitional text and we never see decodable texts again. 
We like to get anywhere from the third to fifth advanced phonics sound, it varies based on the child. 
So they've learned the basic phonics – the short vowels. 
They've learned the various spellings of /oa/, /ee/, and /ay/.
About then, they know a lot of the phonics that will help them with a book like Frog and Toad or Little Bear or Messy Bessy.
So we will continue to choose a decodable text to teach them the /i_e/ sound, and/or maybe next week, the /er/ sound, but we're also going to be reading a text like Henry and Mudge.
Reading Teacher Priority #1
Your first and relentless priority as a reading teacher is developing that sound-based decoding approach  –  that the child has an attack approach to an unfamiliar word, not to look at the picture, not to make a guess based on the first letter – but to look at every sound, every symbol, read them left to right. 
In Reading Simplified, we have an activity, Read It, we use to teach blending sounds.
Next, they need to have the words they've decoded become automatically recognized, or become so-called sight words. 
They need to be orthographically mapped, and that takes repetition.
And that's what's so great about these early transitional texts. 
Transitional texts serve as valuable tools for teaching and reinforcing words that students aren't reading automatically yet. 
Here's how these books or passages support automaticity:
Each text has a constraint on the number of words included.

Many words are repeated. 

They include a lot of high frequency words.
It's important to understand the top 300 words represent about 65% of written English. 
So let's teach our kids to decode those words and see them enough so that they can quickly get into Henry and Mudge. 
Then they reread Henry and Mudge, and those words become solid.
Once those words are automatic, you start to see an explosion in their self-teaching and recognition of lots of words.
Because – to some extent – they're kind of blowing by all these high-frequency words that aren't hard because they have a strong sound-based decoding foundation.
They read everything really rapidly, and when they get to a hard word like "challenging," they might slow down and work on that.
But then they see words like "said," and "the," and "into," and "from," and "over," and "mother," and those take no mental energy. 
So if we could release more phonics information to kids earlier, those words would be easier.
A game to prime the pump for Set for Variability
Final thoughts…
Switch It is an amazing preparatory activity for developing a Set for Variability.
Our goal with this activity is to have students learn the letter sounds, but then also to push them into higher and higher levels of phonemic difficulty. 
So keep raising the bar with the words and those word chains. 
Don't just stay at three sounds. 
As soon as they can, to some extent, push them to four sounds, and then push them to five sounds. 
At the end of that, we even do Switch It with nonsense words so we're really still pushing that cognitive flexibility of sounds and symbols, which I think prepares the way for Set for Variability.
A lot of people, no matter what curriculum they're using, can fold that activity in.
It just takes about five minutes once you get the hang of it, and it hits a lot of skills and strategies that kids need.
Set for Variability is the skill beyond decoding that children need and you can teach. 
When we look at Set for Variability in connection to how we know students learn to read words, and other theories about word reading, we can begin to use it straight away to help readers expect a Set for Variability from the beginning of their reading journey. 
Let's recap…
Get some materials together for Switch It to prime the pump!

Teach letter-sound knowledge.
Reveal the code and information about our writing system sooner.
Utilize a good blending strategy (and a flexible multisyllable word strategy).
Offer feedback, "What else could this be?"
That's all there is to it! 
Now that you understand more about a Set for Variability…I'd love for you to try it with your students, child, neighbor's child, etc., and let me know your thoughts in the comments!
Studies mentioned in the podcast:
Zipke, M. (2016). The importance of flexibility of pronunciation in learning to decode: A training study in Set for Variability. First Language, 36(1), 71–86. https://doi.org/10.1177/0142723716639495
Treiman, R., & Kessler, B. (2006). Spelling as statistical learning: Using consonantal context to spell vowels. Journal of Educational Psychology, 98(3), 642–652. https://doi.org/10.1037/0022-0663.98.3.642